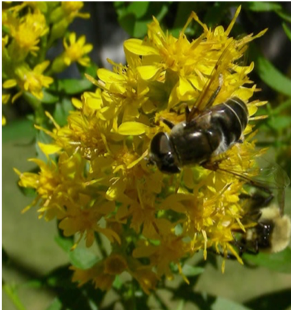 Plus take advantage of end-of-season discounts!
Our final plant sale of 2023 is on. We have some great plants on sale at super-low prices, including pollinator favorites like showy goldenrod and wild bergemot. Order now and pick up Saturday or Sunday, September 9-10. Then plant them in your garden and enjoy their beauty while supporting your local bees, butterflies, and other wildlife!
---
Welcome to the Wild Ones Keweenaw Chapter
We are on a journey to
educate ourselves and others about the special attributes of native plants and how to incorporate them into our gardens and civic landscapes;
create habitat that nurtures wildlife, including bees, butterflies, and birds; and
develop resilient landscapes that absorb runoff, protecting water quality and infrastructure.
Regular meetings are held at 6 p.m., the third Tuesday of the month, alternating on Zoom and in person.
---
Want to grow native but don't know where to begin?
Check out our Resources section. Or visit Wild Ones' Native Garden Design website, featuring a several downloadable native garden plans created by professional landscape designers. The plans are free, printable, and come with plant lists.
We hope these resources inspire, encourage and motivate you in your native garden journey!