Welcome to the Fourth Annual
Keweenaw Native Plant Symposium
Inspiration for Home Gardeners
April 15, 19, 22, and 29, 2021
A series of Zoom webinars originating in
Upper Michigan's Keweenaw Peninsula
plus a book club discussion of The Humane Gardener
Keynote Speaker: Nancy Lawson, author

The Humane Gardener
Registration is free. You will need to register separately for each evening of talks. After registering, you will receive an email with a link to each evening's webinar. Register here.
Sponsors
Keweenaw Garden Club * Keweenaw Land Trust
Wild Ones Keweenaw chapter
PRE-SYMPOSIUM PRIMER: THURSDAY, APRIL 15, 7:00 p.m.  Register
7:00 p.m.—Introduction to Native Gardening
Maria Janowiak, MSU Extension Master Gardener and author of
Gardening with Native Plants: A Guide for Michigan's Upper Peninsula
Maria will provide an overview of native gardening, both for beginners and those who have already taken the plunge. Her talk is based on her online booklet, an easy-to-use introduction to native gardening in the U.P. Plus, she will share some new knowledge that goes beyond the purview of her book.
​​​​​​Maria came to the Keweenaw for college and liked it so much that she's never left. She studied forest ecology and management at Michigan Technological University and currently works for the Northern Institute of Applied Climate Science. Outside of work, Maria applies her love of forest ecology, gardening, and land conservation to several local efforts. She serves on the board of directors for the Keweenaw Land Trust and is a Michigan State University Extension Master Gardener, integrating these two roles by focusing on increasing awareness of nature-friendly gardening in the western U.P. In addition to helping coordinate the Native Plant Symposium, Maria authored Gardening with Native Plants: A Guide for Michigan's Upper Peninsula as an introduction for local gardeners. Maria and her husband own and steward 30 acres of woods and wetland in central Houghton County, and she spends much of her time working on the property and in her massive vegetable garden. She has two pollinator gardens inspired by the prairie landscape of Wisconsin's Central Sands where she grew up and has recently started a micro-scale nursery to grow trees and shrubs for her property.
Join us for a discussion about The Humane Gardener, a different kind of gardening book that has received acclaim from readers and reviewers alike. Author and keynote speaker Nancy Lawson tells the story of how she gradually became aware that all gardening actions have consequences for animals and describes what she has done to make her yard a paradise for plants and wildlife. She also gives plenty of tips on what you can do to make your own property a haven for all critters. Register here for the online discussion.
KEWEENAW NATIVE PLANT SYMPOSIUM, PART 1, THURSDAY, APRIL 22, 7:00 p.m. Register 
7:0o p.m.—Native Plants and Storm Water Management at the Marquette Food Co-op
Bill Sanders, landscape architect , Sanders-Czapski Associates, Marquette, Mich.
In 2013 the Marquette Food Co-op redeveloped a former grocery store and restaurant to provide a new location for their Co-op Grocery enterprise. Their interest in sustainable development provided an opportunity to implement landscape features based on native plants and alternative storm water management.  The use of native plants and landscaping techniques provided for reduced site run-off, enhanced pollinator habitat, and improved site aesthetics.
Bill is a licensed landscape architect and has practiced as a designer for site and building design projects in the Marquette area since 1983. He is a principal in the firm of Sanders & Czapski Associates located in downtown Marquette. His firm specializes in landscape architecture, architecture, and historic preservation. Making a connection between people and place has always been a key element in his work. "I strongly believe that we must not be simple observers of a place, but should be participants. We should be touched in some way by the landscapes we experience, whether they are wonders of nature or built places. Achieving this goal is the most exciting and rewarding part of landscape architecture and place making."  
Bill also practices his land ethic, along with his wife, in the day-to-day management of her family's centennial farm near Marquette.
7:30 p.m.—Native Plants and Native Insects
Dr. Tara Bal, assistant professor of forest health, Michigan Technological University, Houghton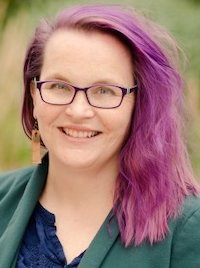 Native insect biodiversity benefits our gardens and the larger ecosystems in numerous ways. Tara will share how non-native plants can make life harder for insects and wildlife and discuss how adding native plants can make your garden a haven for insect biodiversity. She will also talk about different types of beneficial native insects—there can be a lot more to diversity than bees and butterflies!
Tara teaches Insect Ecology, Forest Health, and the annual Maple Syrup Management and Culture course in Michigan Tech's College of Forest Resources and Environmental Science. Through her research, Tara explores strategies for mitigating problems afflicting our forests and forest products such as invasive exotic diseases, pests, or plants. She aims to guide forest management policies and address the ecological response to changes in forest health conditions. Forest health is a key driver of forest management and is continually a main focus for managers, especially as new threats emerge, including invasive species, climate change, or other consequences of human actions. Outside of academia, she enjoys expanding her flower and vegetable garden beds a little bit each year, raising chickens, beekeeping, and collecting firewood with her family.
KEWEENAW NATIVE PLANT SYMPOSIUM, PART 2, THURSDAY, APRIL 29, 7:00 p.m.   REGISTER
7:00 p.m.—Sustainable Gardening
Dr. Brian Black, biology and environmental science instructor, Bay College, Escanaba, Mich.
Learning to live sustainably—to meet our needs without compromising the ability of future generations or other species to meet theirs—is essential. Yet many traditional gardening practices can waste water and energy, pollute off-site water and air, contribute to climate change, degrade the soil, spread invasive species, harm human health, and destroy wildlife habitat. How can you make your gardening more sustainable? What should you grow? How should you grow it? Brian will discuss how sustainable gardening promises to protect, restore, and enhance the ability of landscapes to provide ecosystem services that benefit humans and other organisms.
Brian Black began his college career as a chemical engineering student and quickly realized that his heart wasn't in it. Two decades and a PhD in Ecology, Evolutionary Biology, and Behavior from Michigan State University later, he joined the faculty of Bay College in Escanaba. In his 20 years as a biology instructor, Brian has earned the Bay College Outstanding Educator Award three times. He oversees the Bay College greenhouse, propagating a variety of plants to support campus and area school gardens, as well as a variety of community projects, including the Escanaba Migratory Bird Enhancement Initiative and monarch habitat restoration projects in the Hiawatha National Forest.  A priority is providing a local source of native plants for area gardeners interested in our local flora. His loves include riding his bicycle, hiking, skiing, paddling, and "watching plants go." Plus, he adds, "I've been a serious Bob Dylan fan for nearly 50 years."
7:30 p.m.—KEYNOTE ADDRESS The Humane Gardener: Nurturing Habitat for Wildlife
Nancy Lawson, author, speaker, and habitat consultant
Why do we call some insects "beneficial" while others are "pests"? Why do we welcome some larger animals to our garden while calling others "nuisances"? Why are some plants considered "desirable" while others are "weeds"? In this myth-busting talk, learn how common growing methods divide the natural world into false dichotomies and perpetuate misperceptions about the wild species living among us. Discover practical ways to put humane gardening philosophies into action by protecting nesting sites for insects, birds and mammals; eliminating unintended hazards; identifying and nurturing plants that provide food and shelter; restoring habitat with minimal disturbance to animals; and humanely resolving conflicts with mammals and other commonly misunderstood creatures.
 Nancy is the author of The Humane Gardener: Nurturing a Backyard Habitat for Wildlife, a columnist for All Animals magazine, a habitat consultant, a nationally known speaker on garden ecology, and the creator of HumaneGardener.com. She founded Humane Gardener to pioneer and promote creative planting strategies and other animal-friendly landscaping methods that help gardeners coexist with wildlife large and small.
 Nancy's presentations at diverse venues—from national wildlife refuges and wildflower preserves to universities and state natural resource agencies—have inspired even seasoned horticulturists and wildlife experts to look at their landscapes in a new way. Her book and wildlife habitat have been featured in The New York Times, The Washington Post, and Oprah magazine. Certified as a Chesapeake Bay Landscape Professional, she also volunteers as a master naturalist and master gardener, and she partners with the Audubon Society of Central Maryland, Howard County Bee City, and the urban wildlife department of the Humane Society of the United States.
 Website: www.humanegardener.com
 Social Media: Facebook.com/humanegardener, Twitter.com/humanegardener, Instagram.com/humanegardener