Wild Ones' 2020 Native Plant Sale is now over. Thanks for supporting Wild Ones and giving hundreds of native plants their forever homes. See you next year!
---
Plant Your Own Pollinator Paradise
Create a wildlife oasis in your yard! The Wild Ones Keweenaw chapter is holding its second sale of the summer. We  are offering a selection of native plants to get you started gardening for butterflies, birds, and pollinators.
How our sales work:
For safety's sake, our plant sales are online. Here's what to do:
Browse our plant selection below. You can link to detailed plant information sheets for each offering.
Go to our Shop and pick out your plants.
Check out. You may use PayPal or pay on delivery.
If you have trouble checking out, email your order to wildoneskeweenaw at gmail.com.
Pick up your order, bringing cash or a check if you have not paid with PayPal. You will receive an email reminding you when and where.
WHEN: 5–7 p.m., Sunday and Monday, July 19–20, 2020
WHERE: 1284 Hickory Lane, Houghton
Love native plants? Want to take advantage of pre-sales and pay half price?
Join the Wild Ones Keweenaw chapter! Sign up here or email us.
Questions? Email [email protected] 
Read about these fascinating plants,
then visit our shop.


Fabulous, rosy blossoms on long, sturdy stems distinguish this earlier-blooming cousin of the purple coneflower. We insert the word "probably" because these seedlings were originally identified as plain old purple coneflower. However, as they developed long, strappy leaves, it became evident that they were definitely something else. In the absence of flowers and DNA testing, we can't swear that these are E. pallida, but they sure look the part. Give them a try if you don't mind a little uncertainty in your life; we Wild Ones are planting them in our own gardens.

Intricate lavender blooms appear in profusion on bergamot, a plant that's beloved by pollinators—and avoided by deer. It may spread in some conditions (after all, it is a mint), but experience suggests that it will behave discreetly in our northern gardens. Bergamot is susceptible to mildew, so consider 1) planting in a breezy spot, or 2) accepting a little mildew in your garden life.
Likes sun and partial shade and almost all soils, so long as they aren't too dry. Tons of gorgeous pink to purple blooms in the fall are a late-season godsend for butterflies and other pollinators. Can get tall and leggy, so pinch back in early summer or put in the back of the border.

SOLD OUT
Will grow in nearly all soils, so long as they aren't too wet. Plant in full to partial sun 1 foot apart. Beloved by butterflies, especially monarchs, which only lay their eggs on milkweed plants. Common milkweed is a spreader where it is happy, so give this plant some room to run.

This beloved roadside wildflower tolerates nearly all sunny conditions. A biennial or short-lived perennial, it will return year after year if the seeds land in their happy place.
SOLD OUT
This dandy plant grows in miserable sandy soil in full sun; once established, it is hardy as stone. Beloved by pollinators and humans alike, its blooms are regularly bedecked by monarchs. Plant butterfly weed and help keep our favorite butterfly coming back year after year.
SOLD OUT
This underused plant thrives in sun and sandy soil with a bit of moisture. It's a great filler, and the blossoms are charming. It is a host plant for caterpillars of the American lady butterfly, but it can handle being munched on once it is established. These two species have known each other for a long time.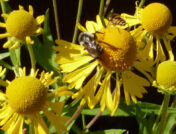 Sneezeweed/Dogtooth Daisy
Helenium autumnale
SOLD OUT
An unfortunate name for a delightful plant, sneezeweed loves full sun and all kinds of soils, so long as they aren't too dry. The charming flowers bloom en masse late in the season. It won't make you sneeze; it got its name from its former use as snuff.
SOLD OUT
This cheery sunflower brings a welcome splash of gold to the forest edge. It spreads by rhizomes, like many sunflowers, so it will naturalize like crazy in the right conditions.
SOLD OUT
A duchess of the native garden, Culver's root is not a particularly fancy flower, but it's elegant white spires tie the rest of your garden together. It plays inordinately well with showier, more colorful blooms such as asters and wild bergamot, and grows happily in sun and part shade.
Harebell Campanula rotundifolia
SOLD OUT
Grow in full or part sun in sandy soils and gravel, planting 6 inches apart. These are the same lovely blooms as the bluebells of Scotland. You may have seen them growing in rocky cracks; they are much more vigorous in the garden.

SOLD OUT
The only shrub in our sale, New Jersey Tea gets 2-3 feet high and likes full sun in dry to medium sand or loam. Hummingbirds love the tiny blossoms, which attract miniscule insects that hummers rely on for protein.
Columbine Aquilegia canadensis
SOLD OUT
Columbine has everything going for it: it's widely adaptable, it's beautiful, hummingbirds love it, and it pops up in the most unexpected places. Should you grow columbine? Of course you should.

SOLD OUT
This lovely little plant defies expectations and thrives in lousy conditions, including dry sandy soil. It does reseed where it can find a purchase–not necessarily a bad thing–but you can deadhead after blooming or just share the extras with friends.

SOLD OUT
Native to the Pacific Northwest, this penstemon is now found throughout the U.S. It prefers good soil, average to dry with decent drainage. Native bees love this plant, and so do we.
SOLD OUT
Loves sun and just about any soil or moisture condition, though it does appreciate a little extra dampness. It can form a focal point at the back of the garden and is beloved by pollinators and birds.
SOLD OUT
Unlike the familiar Joe Pye weed found in wet ditches, this species does fine in medium soil with moderate moisture, and it's fine in the shade. Its statuesque (5-6 feet tall) flowers are not just gorgeous, they are butterfly magnets. And seed-eating birds gobble them up in the fall.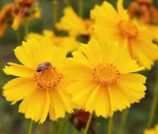 SOLD OUT
Lance-leaf coreopsis is the workhorse of the summer garden, throwing an exuberant display of flowers when it seems like every other plant has thrown in the towel. Dead-head to keep the show going on, and on, and on. As you would expect, lance-leaf coreopsis is not fussy. It just likes lots of sun and not too much water.

SOLD OUT
Found in damp, partly shady places in the wild, this eye-catching plant does fine in full sun with some moisture. The flowers, which look like shuttlecocks, float on the end of long, graceful stems that can sometimes flop. Oh well. Plant among some robust plants, stake, or just enjoy the flop.